---
-- Memories --

---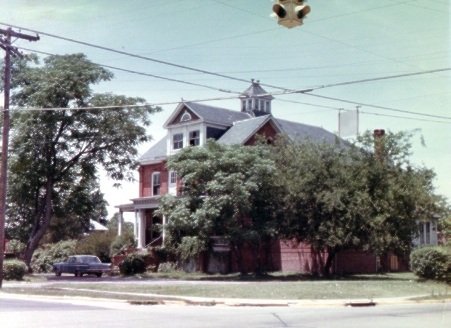 Fowle Memorial Hospital
Market and Fifth Street
Washington, NC

Current Site of the Washington Fire Department
---
If you have any memories to share here, please email me.


Memories written by:
REX H. WHEATLEY JR  

=====================
DIANE, 
HAD SOME TIME SO I WAS THINKING ABOUT GROWING UP ON THE BLOCK ACROSS
FROM ST. PETERS, ON MAIN ST. IT WAS THE TALK OF HOSPITALS THAT TOOK ME BACK.
THERE ARE SEVERAL HOSPITALS THAT YOU HEAR VERY LITTLE ABOUT. THE FIRST IS
"FOWLE MEMORIAL" WHICH STOOD ON THE CORNER WHERE THE FIRE STATION NOW
STANDS. IT WAS A GRAND FOUR STORY VICTORIAN STRUCTURE WITH A LARGE FLIGHT OF
STEPS LEADING TO THE FRONT  ENTRANCE. I CAN REMEMBER (BARELY) GETTING MY
SMALL POX VACCINATION THERE.
THE OTHER WAS THE "NICHOLSON BROTHERS HOSPITAL" ACROSS THE STREET FROM THEN
FRANKIE KUGLARS HOUSE ON THE CORNER OF WATER AND BONNER.  IT MUST HAVE BEEN
A GRAND STRUCTURE IN IT'S DAY. I KNEW IT
THROUGH MRS. KATHERINE NICHOLSON (DR. TOM NICHOLSONS' MOTHER) WHO OWNED IT
AND LIVED THERE WHEN I WAS GROWING UP ON THAT BLOCK. I WISH SOMEONE HAD A
PICTURE OF IT. DUFFY TOLER, HIS BROTHER WHITING, BOBBY ROBERSON, JIMMY WYNN,
CHARLES PARKER, AND MYSELF SPENT OUR YOUTHS IN IT'S SIDE YARD  PLAYING GAMES
OF BASEBALL, FOOTBALL AND THE FAVORITE, CAPTURE THE FLAG.

REX WHEATLEY -- rwheatley@nc.rr.com
(Former Family Home at 239 E. Main St. from abt 1942-1989)
=================

DIANE,
I JUST RECEIVED A COPY OF A BOOK ENTITLED,". A PICTORIAL HISTORY OF
WASHINGTON", IT IS A RECENT PUBLICATION BY A GENTLEMAN WHO HAS RECENTLY
MOVED TO WASHINGTON. IT IS A GREAT SOURCE OF MEMORIES HOWEVER, SEVERAL OF
THE PICTURES ARE MISTITLED. THE HOME IDENTIFIED AS "THE DEMILLE HOUSE" IS
ACTUALLY "THE FOWLE MEMORIAL HOSPITAL" THAT STOOD AT 5TH AND MARKET WHERE
THE FIRE DEPT.
IS NOW LOCATED. I CAN VIVIDLY REMEMBER CRYING MY EYES OUT AS I RECEIVED MY
SMALLPOX VACCINATION THERE AS A CHILD AND THE PICTURE TITLED "P.S..JONES
SCHOOL" IS ACTUALLY THE WASHINGTON HIGH SCHOOL OF MY YOUTH LOCATED ON
SEVENTH STREET.. REGARDLESS, THE BOOK IS A WONDERFUL SOURCE OF MEMORIES FOR
FAR FLUNG WASHINGTONIANS.

REX -- rwheatley@nc.rr.com

============================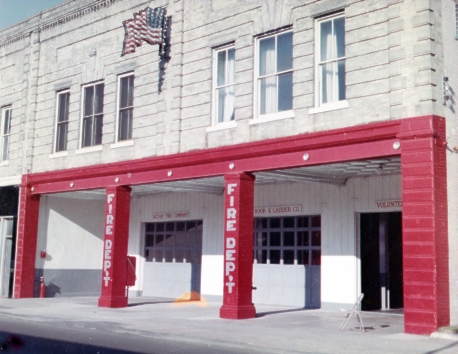 Location of the Washington Fire Dept before it moved to Fifth and Market
This location is now the Washington Daily News Building
---
---
Featured Sections
"Can you ID this Group Pic ??"-write me.
Small Class of 1925/26 - near Aurora
"Memories of Washington-1930s" by W.A. Sellers, Jr.
"Unidentified Ancestors - Photos!" by Kristin
"A Beautiful Christmas!" by Joe Harris
"I Want to be a Fireman!"
Photos-Storm of 1913
Song of Washington - by Joe Harris
United States Coast Guard (Washington, NC) Memories
Carver Family Memories
Washington, NC Memories
Chocowinity Memories
Memories by William Rhodes
Christmas in Washington-Main Street
Have memories related to our great county to share? E-mail Diane Mason
---
---
If you have any old pictures that you want to share, email me. We will scan your picture, put it on this site and return the original to you (negatives are acceptable). Thanks !
Beaufort County's Virtual Community
Visit NCROOTS.com--for history and genealogy.

© Diane Mason 2001