If you have any memories to share here, please email me.

-- Memories --


Latham House* on Prospect Hill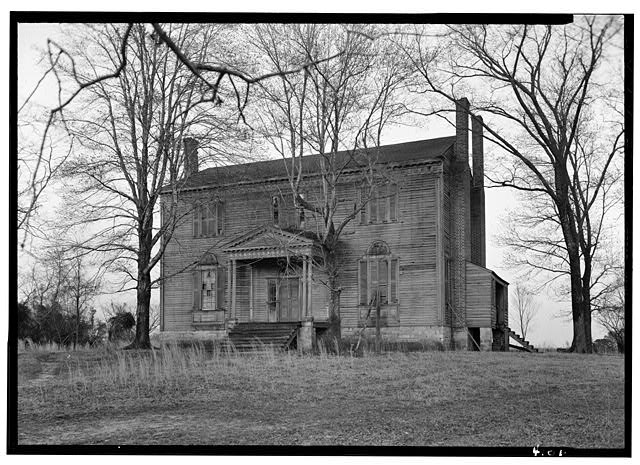 *Latham House was identical to the one above, except for the addition on the right side.
This image is of The Smith House in Scotland Neck,NC
**~*~**~*~*~*~*~*~*~*~*~*~*~*~*~*~*~*~*~*~*~*~*~*~*~*~*~*~**~*~*~*~*~**

ELizabeth S.T. Latham and Reading Grist were married 1838
at Prospect Hill
and moved into Elmwood,
their wedding present from Allen Grist.


**~*~**~*~*~*~*~*~*~*~*~*~*~*~*~*~*~*~*~*~*~*~*~*~*~*~*~*~**~*~*~*~*~**

Memories written by:
REX H. WHEATLEY JR

**~*~**~*~*~*~*~*~*~*~*~*~*~*~*~*~*~*~*~*~*~*~*~*~*~*~*~*~**~*~*~*~*~**
"Prospect Hill" is where my great great grandmother, E.S.T.Latham was born. The above image is almost identical to "Latham House on Prospect Hill", The home of Col. Thomas Latham whose daughter, Elizabeth Snoad Trotter Latham, was born here. It is also where she married James Redding Grist. It was given to the young couple as a wedding present by the grooms father. It was located on the crest of the high ridge that crosses Oakdale Cemetary just to the west of Market St. Ext. to the south of the airport. It was demolished in 1956-57. When I was a young boy in the early fifties, most of the house was standing even thought it was boarded up. In the mid-fifties I use to play cowboys and indians around it. I can remember my grandmother, Elizabeth Simmons Phelps, her sister Rebecca W. Simmons and Claudia S. Bell and her husband Caleb Bell, once let me ride with them to the old house so they could dig flower bulbs that were planted around the home. Grandmother told me that the bulbs were planted by here grandmother's (E.S.T.Latham) family. The bulbs might still be at 239 East Main where grandmother lived and I grew up. Grandmother also planted some on the family plot at Oakdale and also on the Simmons plot where Rebecca is buried. My grandmother told me that once as a young girl, she went there when descendants of the family still lived there. She remembered it as kind of run down then. Probably around 1910. What impresses me is the trimwork, all by hand.At one time it was a Grand Home. Rex Wheatley, Jr.
*~*~**~*~*~*~*~*~*~*~*~*~*~*~*~*~*~*~*~*~*~*~*~*~*~*~*~*~*~*~*~*~*~*~*~*

PROSPECT HILL


Latham House
---
---


	  Additional Comments:

	"Elmwood 3" was located on West Main St. That was the Grist 
        home beginning with James Reading and E.S.T. Latham.

	The Grist family never lived at "Prospect Hill". This was the 
        Latham home.  The wedding betwen James and Elizabeth was held 
        there.

	The Redding Grist family home was over the river, west of 
        Chocowinity. The old graveyard is still there.

	When James Redding Grist married Elizabeth Snoad Trotter 
        Latham, they were Given "Elmwood 2" on West Main St. as a 
        wedding present by James' father, Allen.

	My great grandmother Elizabeth Latham Grist was born there
        (Elmwood 1). One odd note, every woman from my mother and her 
        mother and on back for five generations was named "Elizabeth", 
        guess they liked that name.

	I have the Latham/Grist family bible 1, 2, 3, 4 dating from the 
        1700's. If I can help anyone with family searches concerning, the 
        Latham's, Grist, Grimes, Bonners, Simmons, and Phelps(and a 
        few others) they may contact me at my e-mail address.

                FAMILY TREE:  Page 1   Page 2   Page 3 

                FAMILY CHARTS:
                Simons/Stevenson/Grist/Latham Family Chart
                Wheatley Family Chart

---
---
---
---
---
---
---
---
---
---
---
---
---
---



           \\\|///
         \\  ~ ~  //
          (  @ @  )
------- oOOo-(_)-oOOo----------------------------
If you have any old pictures that you want to share, email me.
We will scan your picture, put it on this site and return the original to you
(negatives are acceptable). Thanks !
© Volunteer-Diane Mason, 2003